By Health In Five Writer
Mumbai: A team headed by Dr. Abhay Bhave, Senior Consultant- Haematology, Global Hospital, Parel successfully carried out a bone marrow transplant of a 39-year-old man suffering from acute myeloid leukemia, a type of blood cancer if untreated can kill within months.  The patient is stable now and got the discharge.
Life was smooth until a 39-year-old man from Mumbai, a software engineer was jolted out of his normal life owing to fever, generalized weakness. His health started deteriorating and his family was worried.  He consulted a local physician. However, the patient was referred to Global Hospital, Parel, Mumbai wherein his life was saved by the doctors.
Dr. Shrinath Kshirsagar, Consultant, Haematology and Bone Marrow Transplant Physician, Global Hospital, Parel said, "The patient came in an emergency in February 2020, when he was diagnosed with acute myeloid leukemia, a type of blood cancer if untreated can kill within months.  Acute myelogenous leukemia (AML) is a cancer of the blood and bone marrow, the spongy tissue inside bones where blood cells are made. After counseling, he was started high dose chemotherapy. During chemotherapy, he stayed in the hospital for approximately 3 and half weeks during which he required many blood and platelet transfusions. In view of the high-risk nature of the disease, bone marrow transplant was planned for his further care."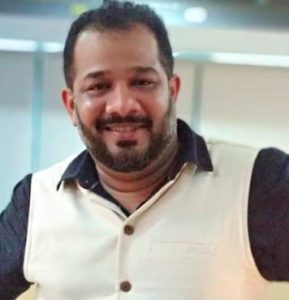 "He got the second shock of his life when his COVID19 the test came out to be positive. So, plan for his transplant went on a toss. He recovered well from his COVID after 2 weeks of treatment. Because of the COVID-19 infection, his due course of treatment was deferred. So finally, in July 2020 when he was on verge of relapse, he was taken for an allogeneic bone marrow transplant. His brother who was his stem cell donor had to travel to Mumbai despite lockdown.  Bone marrow transplant is a curative procedure for certain types of blood cancers. In which stem cells are taken from a healthy donor who is HLA matched with the patient. These stem cells are given to the patient. Prior to this, a high-dose drug regimen is given to the patient which is known as a conditioning regimen. This conditioning regimen kills all existing cancer cells in patients' bone marrow. New cells from the donor make home to this empty bone marrow and start producing healthy blood. The patient had to stay in the hospital for a month," said Dr. Kshirsagar.
Management of patients transplanted during a pandemic is very complex. However, the medical team at Global Hospital is skilled to handle complicated cases with much ease irrespective of the challenges, concluded Dr. Vivek Talaulikar, Chief Executive Officer, Global Hospital, Mumbai.