By Health In Five Writer
A team headed by Dr. Suhas Aagre, Oncologist and Hemato-Oncologist at Asian Cancer Institute gave a fresh lease of life to a 58-year-old Mumbai woman with stage-4 breast cancer. The patient was successfully treated with hormonal therapy alone.
Doris Lobo, a esident of Mumbai, suddenly experienced back pain in 2019. She ruled it out associating it with age. To her dismay, she didn't get relief for a longer time and endured the pain without informing her family. Slowly, her health deteriorated and she felt uncomfortable and uneasy. Her mammogram showed features suggestive of breast cancer which was confirmed through biopsy. The cancer diagnosis in the right breast was unsettling for the family but the patient didn't lose hope.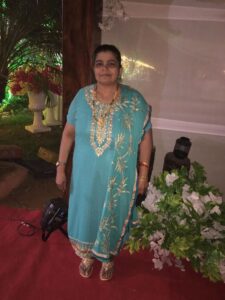 Dr. Suhas Aagre, Oncologist and Hemato-Oncologist at Asian Cancer Institute, said, "She was an obese patient and her staging PET CT showed Nodal metastasis confirming advance stage IV disease. During the first consultation, the patient and family were anxious because of the advanced nature of the disease. Although it was a metastatic disease, patient reports suggested that she would respond to hormonal therapy and chemotherapy can be avoided. Hormonal therapy is a type of oral pill and doesn't have side effects like chemotherapy. This was discussed in detail with the patient, daughter, and family. She was started on a single pill per day (tablet Letrozole) of hormonal therapy which she tolerated well with excellent response.  Not treating her promptly could have led to a loss of life."
She was doing well for two years and three months when she noticed vaginal bleeding. PET CT showed a uterine mass lesion with the controlled rest of the disease. She underwent removal of the uterus (hysterectomy) and didn't require any further adjuvant treatment because of the early stage of the disease. Currently she is on continued treatment with Hormonal therapy for breast cancer. The patient is fine but has been asked to lose weight as she has arthritis that is putting pressure on her knees. She is leading a normal life and coming for regular follow-ups, informed Dr. Aagre.
"The breast cancer diagnosis shocked me, whereas my mother remained strong and didn't lose hope. She was determined that she would be able to fight cancer. She wanted to be a cancer warrior who inspires other women suffering like her. I was the one who was shattered, broke, and cried a lot instead of my mother who was facing cancer. Now, the back pain has vanished, the cancer is treated and my mother is back to her normal routine. We go for regular follow-ups with Dr. Aagre after every 3-6 months to ensure there is no problem. She even traveled to Goa and is enjoying her vacation there. My mother is cancer-free for the last 3 years even after having stage IV breast cancer," concluded the patient's daughter.
Follow Health In Five on LinkedIn, Facebook, Twitter & Instagram
Subscribe on WhatsApp & Telegram to receive real time updates