By Health In Five Writer
Haryana health minister Anil Vij said on Saturday he has tested positive for the coronavirus disease (Covid-19) and has been admitted to a hospital.
"I have been tested Corona positive. I am admitted in Civil Hospital Ambala Cantt. All those who have come in close contact to me are advised to get themselves tested for corona," he tweeted.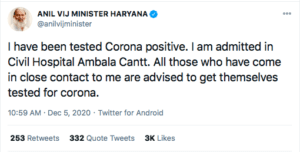 Vij, a Bharatiya Janata Party (BJP) leader, volunteered to be a part of the third phase trial of Covaxin, which started in Haryana on November 20. He was administered a trial dose.
However, it's not immediately clear whether he was administered the vaccine candidate during the trial or a placebo.
Also, the antibodies against the infection build up only after a specific number of days pass after the second dose of the vaccine is taken, since it is a two-dose vaccine, according to a health ministry official who did not want to be named.
The official said this was not solely in the context of Vij, who got just one dose — of either the vaccine or a placebo.