By Health In Five Writer
GHC Hospitals, Mumbra conducted a successful kidney transplant on a 47-year-old patient, Achu Patrick Ndifor, who had been on dialysis for over three years. A team of doctors led by Dr. Nikhil Shinde, Consultant Nephrologist & Transplant Physician, Dr. Ashiq Raval, Senior Urologist & Transplant Surgeon facilitated the successful transplant. His 20-year-old son donated a kidney to save his father.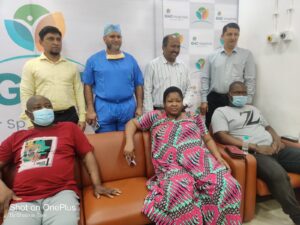 Achu Patrick Ndifor was diagnosed with chronic kidney disease of stage 5 and maintained on hemodialysis for 36 Months. He was unable to perform his daily activities with ease. He was doing hemodialysis three times a week. His health further deteriorated during the lockdown. The local doctors had suggested him renal transplant. However, the patient came to India in March 2022 with his wife, son, and daughter for a kidney transplant.
Dr. Nikhil Shinde, Consultant Nephrologist and Transplant Physician of GHC Hospitals said, "When he came to our hospital, his blood sugar, blood pressure, and creatinine level where very high. He was stabilized by bringing his blood sugar and blood pressure within a normal range and then put on dialysis. His wife was unable to donate a kidney due to medical reasons and the next option was his son. His weight was 118 kg, and he was finalized as the donor.
Dr Shinde added, "There is a risk of rejection according to their genes during a transplant. Before the surgery, we researched everything, including his diet, required doses, and pathogenicity. His food habits and genes are different from Indians. He needed more doses of drugs. So, we planned the doses according to his body requirement. There was another challenge after surgery that was controlling his diet as he ate spicy and oily food. Initially, it was very difficult for him to eat Indian food. After counseling, now he has adjusted to Indian food and is recovering speedily. He will stay here till September and we are testing his kidney functions every alternate day."
"The donor and his son recovered well and were discharged from the hospital on the fifth day after surgery. His son was 118 Kg at the time of surgery, and obese, whereas, the patient's weight was 94 kg at the time of surgery, and had diabetes and hypertension. With these risk factors performing both surgeries were difficult, but we achieved it. Now, his creatinine level is also maintained," said Dr. Ashiq Raval, Consultant Senior Urologist and transplant surgeon of GHC Hospitals.
"After Mumbai, now GHC is expanding its wings for medical tourism. We are happy that in Thane down region we are providing the facility for an organ transplant with dedicated experts, advanced technologies, and diagnostic services. We should encourage medical tourism so many patients will get the benefit of these facilities. It will help to make awareness about organ donation and transplantation in our country," said Dr. Zainulabedin Hamdulay, Managing Director and leading cardiac and transplant surgeon, GHC Hospital
Follow Health In Five on LinkedIn, Facebook, Twitter & Instagram
Subscribe on WhatsApp & Telegram to receive real time updates