Union Budget 2021
Health Budget increased by 137%, says Finance Minister
India's overall allocation for the health sector has gone up by 137% for the financial year 2021-22 as compared to the previous year, with the finance minister Nirmala Sitharaman announcing an allocation of ₹2.24 lakh crore while presenting the Union Budget today. Health and well-being is one of the key pillars of the six that this year's budget proposal rests on. Government's three focus areas in the health segment mentioned by the finance minister were preventive, curative and well-being.
FM announces PM Aatmanirbhar Swasth Yojana 
A new centrally sponsored scheme 'PM Aatmanirbhar Swastha Bharat Yojana' will be launched with an outlay of Rs 64,180 Crores over 6 years. This will develop capacity of primary, secondary and tertiary care, strengthen national institutions and create new ones, said finance minister Nirmala Sitharaman
Features of PM- Aatmanirbhar Swasth Yojana scheme:  
Support for 17,000 rural and urban wellness centres
Setting up health labs in all districts and 3382 public block units in 11 states
Establishing critical care units in 602 districts and 12 govt institutions
Strengthening National Centre for Disease control – its five centres and its urban units
Expansion of the integrated Health portal to all states & UTs
Operationalisation of 17 Public Health units and strengthening of 33 existing units at points of  entry – 33 airports, 7 sea ports and 11 land crossings
Setting up of 17 health emergency centres and 2 mobile hospitals
Setting up a regional WHO centre office, 9 bio-safety level 3 laboratories, 4 regional National Institute of Virology
Centre to provide Rs 35,000 crore for Covid-19 vaccination
Government of India will provide Rs 35,000 crore for Covid-19 vaccination in 2021-22, said FM Nirmala Sitharaman. She further assured that the Centre is committed to providing more funds.
Mission POSHAN 2.0 to be launched
Supplementary Nutrition Programme and POSHAN Abhiyaan shall be merged as announced by the Finance Minister. To strengthen nutritional content, delivery and outcome, Intensified strategy for improving nutritional outcomes in aspirational districts, Mission POSHAN 2.0 will be launched.
Pneumococcal vaccine will be rolled out across the country
Finance Minister Nirmala Sitharaman said that the pneumococcal vaccine, which is presently limited to only 5 states at present, will be rolled out across the country. It will avert more than 50,000 child deaths annually.
Rx – Recipere 
Finance Minister Nirmala Sitharaman
"We have announced 35,000 crore rupees for COVID vaccine, and, for the health sector, we have a budget outlay of Rs 2,23,846 crore, which up 137 per cent compared to Rs 94,452 crore in previous years. A new Centrally, sponsored Health system – PM Aatmanirbhar Swasth Yojana with an outlay of Rs 64,180 crores over 6 years. This will strengthen the existing detection and curing centres and set up new centres in addition to the National Health Mission."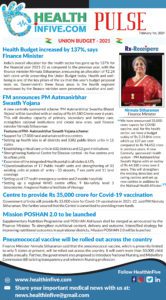 Subscribe on WhatsApp & Telegram to receive real time updates
Follow Health In Five on LinkedIn, Facebook, Twitter & Instagram