By Health In Five Writer
Dr Sahajanand Prasad Singh, National President, IMA along with his delegation met Union Minister of Health & Family Welfare, Mansukh Mandaviya recently. The meeting was a follow-up of the earlier meeting which was held on dated 2nd February, 2022 and focussed on the way forward pertaining to the core issues flagged by IMA.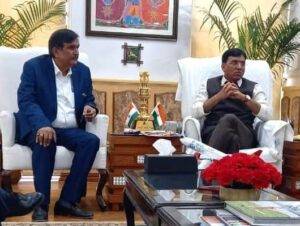 As per the statement by IMA, "The minister assured to look into each issue to be sorted out in a time bound manner, especially pertaining to the prompt conferment of B C Roy Awards pending since last three years, explicit deletion of Health care services from the ambit of Consumer Protection Act, incorporation of amended provisions included in the Indian Epidemic Act pertaining to prohibition of violence against doctors to be brought into all-time mode through suitable amendments of CrPC, exclusion of the 50 bedded hospitals from the ambit of Clinical Establishment Act, incorporation of Clause 304-C in the criminal procedure code pertaining to criminal medical negligence and arrest of doctors thereto and those pertaining to Bio Medical Waste. He also emphasised that the Vaccination Programme so diligently carried out by the Government of India in association with various agencies including Indian Medical Association, has been able to successfully tackle the third wave of COVID pandemic in a very efficacious and meaningful manner. However, a clear message for vaccination as the real saviour needs to be percolated down to nooks and corners of the country, emphasising the significance and relevance of the same."
The delegation assured the minister that IMA has been catering consistently to the said cause of ensuring that vaccination programme succeeds in the desired manner, and accordingly he assured that he will instruct all the State Units of the IMA to propagate the said cause through social, print and other public communication modalities catering to the said venture in the larger interest of the people and the countrymen in a most unequivocal manner. He assured that IMA takes the onus of spreading this massage to be spread with all forever as a part of its duty boundedness towards the people of this country construing it as a national duty.
Follow Health In Five on LinkedIn, Facebook, Twitter & Instagram
Subscribe on WhatsApp & Telegram to receive real time updates