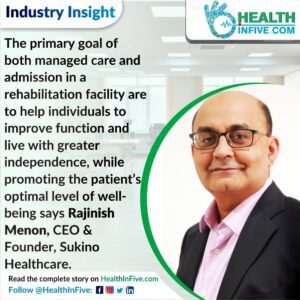 According to the World Health Organization (WHO), chronic and lifestyle diseases are expected to increase healthcare expenditure in India over the next 25 years. The increasing incidence of chronic diseases, coupled with the need for better primary and postoperative care, is likely to drive the market growth in the country. Healthcare companies are expanding their service offerings to maintain and increase market share. Whether your loved one is recovering from an extended illness, a fall or surgery, one can now avail a full range of health services through a pre-approved network of physicians and healthcare service entities. In many respects, home health care clinicians and clinicians working in other settings have similar concerns about patient safety and care quality
This is where managed care and rehabilitation centres comes in and bridges the gap between the health care system and the patient to put them on a fast track towards recovery. They provide extensive care to patients in need of skilled nursing care or rehabilitation for hip or knee replacement, surgery, stroke, illness, or injury. The primary goal of both managed care and admission in a rehabilitation facility are to help individuals to improve function and live with greater independence, while promoting the patient's optimal level of well-being. 
One of the major advantages of managed care is that it allows older individuals to continue doing daily chores such as walking, bathing, dressing, and preparing meals. As a result, they will be able to live independently at home. According to experts, older individuals heal faster and with fewer problems at home and in care centres than in a hospital. Healing in a warm and loving environment helps relieve stress. Being at home helps older individuals to preserve a feeling of normalcy in their life by sticking to their routines in familiar settings. 
Post-surgery, patients are more sensitive to the risk of infections. An occupational therapist can assist in the creation of a safer environment to minimise the risk of contagious diseases which they are otherwise exposed to during long-term hospital admission.
In-hospital care is usually much more expensive and comes at an exorbitant price. It is not feasible to keep the patient in a hospital for a long period of time since it is not cost-effective. Home health or care at a facility is usually less expensive, more convenient, and can be just as effective as care you get in a hospital with skilled nursing facility. Managed care provides professional medical care of hospital standards. 
Physical therapy treatments at home are now increasingly being made available in most cities in the country. Another advantage of the at-home treatment is the chance to evaluate the safety and accessibility of the home environment. If the patient has just had surgery or been hospitalised for a medical condition, they may be concerned about being safe at home, specifically the possibility of falling or slipping A therapist's trained eyes can detect potential fall risks or restroom problems and give useful preventative suggestions, lowering the incidence of hospital readmission. Home care can hence help in. An increasing body of research suggests that older or unwell patients are less likely to have a severe incident at home than in a hospital.
Social interaction is important to stay healthier in later stages of life. Home care givers, double up in the role of trusted companions for social and regular activities. At a rehabilitation centre, fellow patients can team up together for entertainment and bond over reading, walking, meals etc. Focused peer support can help in increased self-esteem among the healthcare community.
In conclusion, home care partners and rehabilitation centres employ professionals who are skilled in assessing client requirements and developing care plans, which are typically provided at no cost to the customer. A home care partner's expert staff can assist customers in navigating the network of health care services and successfully communicating their requirements and goals to physicians, hospital personnel, and nursing home staff. Home care caregivers therefore can help patients and their families overcome any emotional griefs and doubts or reservations they may have about receiving home care services. With home health care services on the rise, the demand for recuperative health services at home is set to witness faster adoption and quickly become transform from an emerging option to an essential necessity. Providing professional medical care at rehabilitative centres also helps customise and personalise the experience for the patient. They are designed keeping the patient's needs in mind which leaves the patient feeling comforted. 
In-home and rehabilitation caregivers, strive to make a patient's recovery, a safer and a more comfortable experience, even for those who are ageing. With more tangible benefits of hiring a caregiver, both the older adults and their family members can enjoy added peace of mind. Home is, where the health is. 
The writer is CEO & Founder, Sukino Healthcare
Follow Health In Five on LinkedIn, Facebook, Twitter & Instagram
Subscribe on WhatsApp & Telegram to receive real time updates