By Health In Five Writer
#COVID19 India Tracker (As on 12 May, 2021, 08:00 AM)
Confirmed cases: 2,33,40,938
Recovered: 1,93,82,642 (83.04%)
Active cases: 37,04,099 (15.87%)
Deaths: 2,54,197 (1.09%)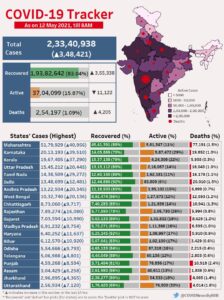 India recorded 3,48,421 new cases in the last 24 hours with the ten states reporting 71.22% of the new cases in last 24 hours. Maharashtra has reported the highest daily new cases at 40,956. It is followed by Karnataka with 39,510 while Kerala reported 37,290 new cases.
India's total active Covid-19 caseload has dipped to 37,04,099 today. It now comprises 15.87% of the country's total Positive Cases. A net decline of 11,122 cases is recorded in the active caseload in the last 24 hours. This is the second consecutive day of decline in the active cases. About 13 States cumulatively account for 82.51% of India's total Active Cases.
The change in active cases for states in the last 24 hours is depicted in the graph below.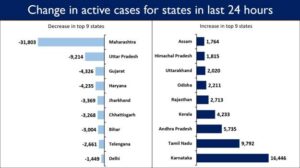 India's cumulative recoveries stand at 1,93,82,642 today. The National Recovery Rate is 83.04%. About 3,55,338 recoveries were registered in the last 24 hours.The New Recoveries outshines new daily cases for the second consecutive days.
On the other hand, the cumulative number of COVID-19 vaccine doses administered in the country has exceeded 17.52 Cr today as the Phase-3 of the nationwide Vaccination Drive expands further.
A total of17,52,35,991vaccine doses have been administered through 25,47,534sessions, as per the provisional report till 7 am today. These include 95,82,449 HCWs who have taken the 1st dose and 65,39,376 HCWs who have taken the 2nddose, 1,41,49,634 FLWs (1stdose), 79,52,537 FLWs (2nddose), 30,44,463 beneficiaries under 18-45 age group (1stdose), 5,58,83,416 (1stdose) and 78,36,168 (2nd dose) beneficiaries aged 45 to 60 years. 5,39,59,7721stdose beneficiaries and 1,62,88,176 2nd dose beneficiaries of more than 60 years old.
Follow Health In Five on LinkedIn, Facebook, Twitter & Instagram
Subscribe on WhatsApp & Telegram to receive real time updates