By Health In Five Writer
A team headed by Dr. Nitu Mundhra NICU In charge, Consultant Neonatologist, Wockhardt Hospital, Mira Road gave a new lease of life to a six day sold premature baby with low birth weight, dehydration, and not accepting feeds due to congenital intestinal malrotation. The baby boy successfully underwent a laparoscopic LADD Procedure, recovered, and was discharged at 1.6 kg of weight. The baby is achieving the developmental milestone of his/her age.
Deepali Jadhav, based in Mumbai were happy due to the birth of their twins, one boy and one girl born on 28 July. The couple's happiness was short-lived as one of the baby boy was not accepting feeds since birth, The baby's weight was 1.6 kgs at birth but he started losing weight significantly. The parents came to Wockhardt Hospitals, Mira Road wherein the baby was successfully treated.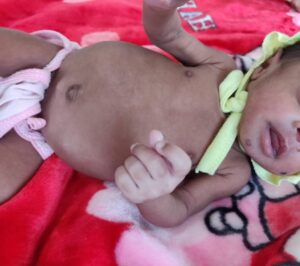 Dr Nitu Mundhra lead Neonatologist under whom the newborn was admitted said, "On arrival on August 3, he weighed 1.2 kgs due to weight loss in mere 6 days, was dehydrated, and couldn't breastfeed and vomit milk. Initial investigation x ray done outside and here also were inconclusive, but with strong suspicion of surgical pathology we did bedside dye study that revealed intestinal malrotation. About 1 in 10,000 babies suffers from malrotation and will need timely intervention. Intestinal Malrotation means that the intestines (or bowel) are twisting, and lead to obstruction (that is blockage) preventing the baby from accepting feeds. The cause of it in this baby was Ladd bands. It was an emergency and we had to use a multi-disciplinary approach to treat the baby."
Dr. added, "The baby was put on IV fluids to overcome dehydration before scheduling him for surgery."
His laparoscopy revealed midgut malrotation with Ladd's bands obstructing the duodenum and narrow root of mesentery all of which was corrected laparoscopically. The baby tolerated the procedure well and was extubated the next morning and soon feeding was started. By 8 days after surgery, the baby had reached the full feed requirement and was discharged in the next two days with a weight of 1.600 kg. The baby is on regular follow-up and doing very well.
Laparoscopy in children is very challenging due to requirements of anaesthesia, surgical skills and post-operative care. However, our team has performed many such complex procedures over the past few years and this is the youngest baby being operated by laparoscopy so far. Laparoscopic surgery enables fast recovery, negligible wounds and minimal tissue trauma allowing for a healthy and active physical life in children as they grow up.
Total parenteral nutrition (TPN) was initiated for the baby. It is the method of feeding that bypasses the gastrointestinal tract, and fluids are given into a vein to give nutrients that the baby's body requires. Not treating him/her at the right time could have led to serious complications such as severe dehydration, hypernatremia, perforation, renal failure. Parents are happy as they can now give breast feed to him like the other twins and treated at the right time. The surgery had a good outcome. The baby is alright and accepting feeds now and has become almost 2 kg in the latest follow up at 15 days.
"Our happiness turned into a nightmare when our baby would throw up milk during breastfeeding. We were tense and worried as this kept happening for almost 5-6 days. We could see the baby becoming pale, dehydrated, inactive, and cranky. The diagnosis of malrotation was appalling for us. But, we thank the doctors at Wockhardt Hospital for giving a fresh lease of life to my baby. I resumed breastfeeding now, and he takes it without vomiting," concluded the baby's mother Deepali Jadhav.
Follow Health In Five on LinkedIn, Facebook, Twitter & Instagram
Subscribe on WhatsApp & Telegram to receive real time updates