By Health In Five Writer
Vice President, M. Venkaiah Naidu, alled for addressing the shortage of trained human resources in the health sector on a war footing. Noting the low doctor to population ratio at 1:1,511 in India against the WHO norm of 1:1,000, he stressed the need for creating more medical colleges in line with the government's intention of setting up one medical college and hospital in every district of the country.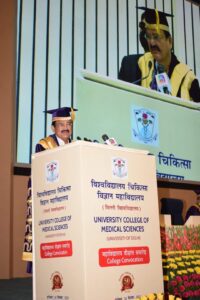 Referring to the paucity of paramedical staff in the country, Naidu called for improving the nurse to population ratio (1:670 in India, compared to the WHO norm of 1:300) in a mission mode. On the shortage of trained manpower in rural areas, he suggested creating better incentives and infrastructure to attract health care workers to serve in the villages.
Speaking at the convocation of the University College of Medical Sciences, New Delhi, the Vice President noted the improvement in different health indicators since Independence. At the same time, there were many challenges that require a coordinated and concerted approach by both the government and the private sector, he added.
Naidu stressed that the first step to achieving the goal of 'Health for All' is to increase public spending on health. He referred to the 15th Finance Commission recommendations, which said that states should increase spending on health to more than 8% of their respective budgets by 2022 and the public health expenditure of the Centre and States together should be increased in a progressive manner to reach 2.5 percent of GDP by 2025.
Professor Dr P C Joshi, Acting VC praised the contribution of UCMS in providing the health care services and exceptional contribution during the covid pandemic. He stressed the importance of adding super speciality courses in UCMS to better the standard of patient care.  The Vice chancellor of Delhi University distributed degrees to the undergraduate and post graduate students of passing MBBS and MD/MS batch.
Professor A K Jain, principal of University College of Medical Sciences tabled the college report and apprised the vice- president about the achievements of college in the field of medical sciences and extraordinary services rendered by the college, its faculty, staff and students during the covid pandemic.
Follow Health In Five on LinkedIn, Facebook, Twitter & Instagram
Subscribe on WhatsApp & Telegram to receive real time updates