Rx – Recipere 
Dr. Randeep Guleria, Director, AIIMS
"There are two things. One is the efficacy of the vaccine in preventing serious disease and death. I could say that the vaccine definitely will prevent serious disease and therefore decrease mortality as far as new strain is concerned. As far as efficiency is a concern, one can argue that if you have a strain, the efficiency theoretically may come down a little bit but we do have a good buffer. Currently we have vaccines with efficacy of 70 per cent, 80 per cent, 90 per cent so even if there is slight fall in efficacy they will still be effective in preventing the virus from further spreading."
Cabinet approves Production Linked Incentive Scheme for Pharmaceuticals
The Union Cabinet, chaired by the Prime Minister, Narendra Modi has approved Production Linked Incentive (PLI) Scheme for Pharmaceuticals over a period of Financial Year 2020-21 to 2028-29. The Scheme will benefit domestic manufacturers, help in creating employment and is expected to contribute to the availability of a wider range of affordable medicines for consumers. The scheme is expected to promote the production of high value products in the country and increase the value addition in exports.  Total incremental sales of Rs.2,94,000 crore and total incremental exports of Rs.1,96,000 crore are estimated during six years from 2022-23 to 2027-28.
People with SARS-CoV-2 antibodies may have low risk of future infection
People who have had evidence of a prior infection with SARS-CoV-2, the virus that causes COVID-19, appear to be well protected against being reinfected with the virus, at least for a few months, according to a newly published study from the National Cancer Institute (NCI). This finding may explain why reinfection appears to be relatively rare, and it could have important public health implications, including decisions about returning to physical workplaces, school attendance, the prioritisation of vaccine distribution, and other activities. For the study, researchers at NCI, part of the National Institutes of Health, collaborated with two health care data analytics companies (HealthVerity and Aetion, Inc.) and five commercial laboratories. The findings were published on Feb. 24 in JAMA Internal Medicine.
Medtronic launches TYRX Envelope in India
Medtronic has announced the launch of the TYRX Absorbable Antibacterial Envelope (TYRX Envelope) – an absorbable, single-use, antibacterial envelope designed to stabilise a cardiac implantable electronic device (CIED) or implanted neurostimulator while releasing antimicrobial agents over a minimum of seven days.
Constructed from a multifilament, knitted absorbable mesh, the TYRX Envelope holds the CIED device and is fully absorbed by the body approximately nine weeks after implantation. It can be used with any implantable defibrillator, pacemaker, or neurostimulator. The TYRX Envelope was cleared by the FDA in 2013 and received CE Mark in 2014. It is recommended for the WRAP-IT study population and patients with other high-risk factors as outlined in the document.
Jivagram becomes Haryana's first CGHS Empanelled NABH Ayurveda Hospital
Jivagram by Jiva Ayurveda has become the first CGHS (Central Government Health Scheme) empanelled NABH accredited AYUSH Hospital in Haryana. The CGHS is a healthcare facility scheme for the existing and former employees of the Central Government of India run by the Ministry of Health and Family Welfare. Ayurvedic practices such as Panchakarma (shodhana) therapies, yoga and meditation, raag chikitsa, reflexology, mudra therapy, naturopathy, Ayurvedic cooking classes, herbs and various diet and lifestyle activities are offered as part of the treatment protocols.
16,738 fresh Covid-19 cases in India, which is nearly 22% higher than yesterday. There are over 1.1 crore total cases in the country.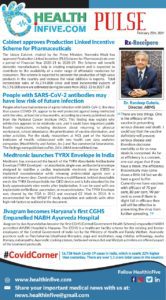 Subscribe on WhatsApp & Telegram to receive real time updates
Follow Health In Five on LinkedIn, Facebook, Twitter & Instagram