Rx – Recipere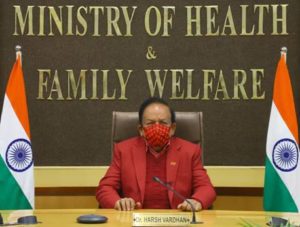 Dr. Harsh Vardhan, Union Minister for Health & Family Welfare
The Medical Termination of Pregnancy (Amendment) Bill 2020 passed in Rajya Sabha will enhance access to comprehensive abortion care for women in need & strengthen confidentiality clause as well. This is a historic bill ensuring dignity, safety & wellbeing of women! The provisions of MTP (Amendment) Bill include:
• Increase in gestation limit for abortion from 20 to 24 weeks for rape survivors, victims of atrocities, other vulnerable women including minors, differently-abled
• No Gestation limit in case of substantial foetal abnormalities
Consumption of added sugar doubles fat production
Too much sugar is unhealthy, that we know, but it's not just down to the many calories. Even moderate amounts of added fructose and sucrose double the body's own fat production in the liver, researchers at the University of Zurich (UZH) and the University Hospital Zurich (USZ) have shown. In the long term, this contributes to the development of diabetes or a fatty liver. "Eighty grams of sugar daily, which is equivalent to about 0,8 litres of a normal soft drink, boosts fat production in the liver. And the overactive fat production continues for a longer period of time, even if no more sugar is consumed," says study leader Philipp Gerber of the Department of Endocrinology, Diabetology and Clinical Nutrition.
Double trouble for drug-resistant cancers
ETC-159, a made-in-Singapore anti-cancer drug that is currently in early phase clinical trials for use in a subset of colorectal and gynaecological cancers, could also prevent some tumours from resisting therapies by blocking a key DNA repair mechanism, researchers from Duke-NUS Medical School and the Agency for Science, Technology and Research (A*STAR) in Singapore reported in the journal EMBO Molecular Medicine. "Some cancers have an overactive Wnt signalling pathway that may make them resistant to this sort of DNA damage," said Assistant Professor Babita Madan, from Duke-NUS' Cancer and Stem Cell Biology (CSCB) Programme and a senior author of the study. "Understanding how this pathway drives resistance to existing therapies could lead to the development of novel anti-cancer treatments."
Exhaustion linked with increased risk of heart attack in men
Men experiencing vital exhaustion are more likely to have a heart attack, according to research presented today at ESC Acute CardioVascular Care 2021, an online scientific congress of the European Society of Cardiology (ESC).1 The risk of a myocardial infarction linked with exhaustion was particularly pronounced in never married, divorced and widowed men.
"Vital exhaustion refers to excessive fatigue, feelings of demoralisation and increased irritability," said study author Dr. Dmitriy Panov of the Institute of Cytology and Genetics, Novosibirsk, Russian Federation. "It is thought to be a response to intractable problems in people's lives, particularly when they are unable to adapt to prolonged exposure to psychological stressors."
India Fights Corona – Updates 
Follow Health In Five on LinkedIn, Facebook, Twitter & Instagram
Subscribe on WhatsApp & Telegram to receive real time updates