Rx – Recipere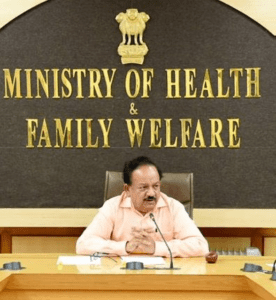 Dr Harsh Vardhan, Union Minister of Health & Family Welfare
"I want to especially thank the frontline health workers, the Medical Officers, the Community Health Officers and ASHAs for their dedication to the cause of providing comprehensive primary health care services and for supporting millions of people with necessary services in these difficult times. They are the backbone of the healthcare delivery system. Their contribution during the COVID period has been exemplary. HWCs (health & wellness centres) have also helped in interventions such as risk communication, contact tracing, community surveillance and early identification of cases, and seamless provisioning of non-COVID essential health services for ensuring protection of vulnerable groups, such as the newborn, elderly and those with comorbidities."
Two third of respondents who believe they are healthy are either diabetics or pre-diabetics: Survey
The 'Making India Heartstrong' Survey revealed that 88% respondents did not know that high cholesterol may lead to heart disease. About 38 percent of respondents who believe they are healthy have been found suffering from diabetes, reveals the study. While another 28 percent healthy individuals have been diagnosed with pre-diabetics based on their HbA1c levels. Hence, two third are either having CVD risk or risk prone. In addition, 50 percent respondents are unaware that diabetes and Obesity are the most closely associated risk factors with heart diseases. Surprisingly, Mumbai even being a top metro city ranks lowest (14%) in terms of awareness towards the association between diabetes and heart diseases. On the contrary, Hyderabad (45%) followed by Vijaywada (43%) appears to be most aware.
eSanjeevani completes 8 lakh consultations
India has seen a landmark achievement in the space of digital health initiatives. Ministry of Health and Family Welfare's eSanjeevani, the national telemedicine initiative, has completed 8 lakh consultations today.  This is fast emerging as a sought after and popular means of seeking health care, especially during the COVID times in order to avoid physical contact while still benefitting by quality services. Over 11,000 patients are seeking health services on a daily basis in 27 States/UTs. eSanjeevani is also facilitating some states as a model that can serve patients throughout the year, especially in the far flung and remote areas.
Pfizer files Covid-19 vaccine application to USFDA
Pfizer Inc applied to U.S. health regulators for emergency use authorization (EUA) of its COVID-19 vaccine, the first such application in a major step toward providing protection against the new coronavirus. The application to the U.S. Food and Drug Administration (FDA) comes just days after Pfizer and German partner BioNTech SE reported final trial results that showed the vaccine was 95% effective in preventing COVID-19 with no major safety concerns.

Unilever to introduce mouthwash that kills 99.9% Coronavirus
FMCG player Unilever announced that it will introduce a unique mouthwash formulation that will reduce 99.9% of coronavirus after 30 seconds of rinsing. "Unilever has confirmed that preliminary lab test results show that mouthwash formulation containing CPC Technology reduces 99.9% of SARS-CoV-2, the virus that causes COVID-19, after 30 seconds of rinsing," the company said in a statement. "Reducing the viral load in the mouth could help to reduce transmission. The findings indicate that mouthwash could become an important addition to other everyday protective measures like handwashing, physical distancing and mask wearing," it added.
Subscribe to our channel on Telegram for latest health and medical updates