Rx – Recipere
Dr. V. K. Paul, Professor, Member, NITI Aayog
"There is a whole-hearted 360 degree effort to take care of the worrying situation which has emerged in Delhi, we all will face it together. The fact remains that we have to be vigilant. People should understand that the infection is not over. Don't be hesitant to get tested. We are doubling the capacity of testing in Delhi. People should ensure that if they have any symptom they must approach the nearest testing facility. When you test on time it will be beneficial to your family as well as the society. Low Mortality Rate does not mean we can risk the lives of others."
WHO makes landmark commitment to eliminate Cervical cancer
The World Health Organization has committed itself to eliminating cervical cancer, one of the most pressing threats to the health of girls and women globally. In what the WHO called "a historic milestone", 194 member states committed to the Global Strategy to Accelerate the Elimination of Cervical Cancer. The WHO's strategy has the potential to reduce cervical cancer cases by forty percent and deaths by five million, if it makes good on its aims across three vital areas: vaccination, screening and treatment. By 2030, the Strategy enshrines countries' commitment to ensure the vaccination of ninety percent of girls under fifteen years of age with the human papillomavirus (HPV) vaccine
 India continues to record more daily recoveries than daily cases for 46th day
India has continued the unbroken trend of the daily new recoveries outpacing the daily new additions for more than 1.5 months. The country also reported less than 50,000 new daily cases for the eleventh continuous day.  44,739 COVID-19 patients recovered in the last 24 hours against just 38,617 newly detected cases. This translates to a net reduction of 6,122 in the Active Caseload which now stands at 4,46,805. The active caseload as on date comprises merely 5.01% of all COVID19 cases.
Amazon enters online pharmacy business in the US 
Amazon, the e-retailer giant has opened an online pharmacy in the United States of America, thus officially entering the pharmacy business. Consumers can now buy their medication and order refills, which will be home-delivered to them. The company said it will offer commonly prescribed medications starting this week, including creams, pills, etc following the necessary protocols.
About 75 doctors and 250 paramedics to reach Delhi to handle the COVID-19 patients
75 doctors and 250 paramedics are headed to the national capital, which is facing a spike in coronavirus cases and manpower shortage. The doctors and paramedics of the paramilitary forces are coming from as far as Assam and Tamil Nadu besides Gujarat, Madhya Pradesh, Uttarakhand, Rajasthan, etc. Arrangements are also being made to enhance the number of oxygen beds by strengthening the 10,000 bedded Chhatarpur covid care centre.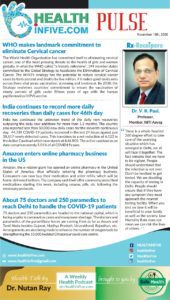 Subscribe to our channel on Telegram for latest health and medical updates